I recently got a couple of Hydro Flasks for me and my kids and I'm a lazy washer so I wanted to know whether or not they are dishwasher safe. I did some research to answer this questioned and wanted to share it here.
Hydro Flask bottles are NOT dishwasher safe. The company clearly states on their website not to put them in the dishwasher. Hydro Flask bottles should be handwashed in warm water and then rinsed before use.
Hydro Flask clearly state on their bottle care page:
*You shouldn't:*

Put your flask through the dishwasher or soak the exterior in hot water: The dishwasher can get hot enough to affect the insulation property of the flask as well as discolor the powder coat. Similarly, soaking your entire flask in hot water can discolor the powder coat.

Soak or put the Flex Cap, Wide Flat Cap, Stainless Steel Flat Cap or Loop Caps through the dishwasher: The Flex Cap, Wide Flat Cap, Stainless Steel Flat Cap, Standard Loop Cap and Narrow Loop Cap can take on water when they are run through the dishwasher or submerged in water for an extended time. Instead, we recommend hand washing them with hot, soapy water, rinsing and allowing them to dry.
Their Printed Material Confirms This:

I recently bought a Hydro Flask 18 oz bottles as well as a 12 oz Kid's bottle so I had a chance to look through the printed material to see what it said and to see if it conflicted at all with the online statement.
As you can see in the image above Hydro Flask state in their printed material "Handwash only" which means do NOT put your bottles in the dishwasher.
Why Aren't Hydro Flask Bottles Dishwasher Safe?
Hydro Flask bottles work so well at keeping drinks either cold or hot because they are double walled with a vacuum inbetween the inner and outer wall.
Most heat needs a medium to pass through so by having a vacuum it insulates the bottle really well.
The issue with putting your Hydro Flask in the dishwasher is that the extreme heat of a dishwasher actually has the potential to compromise the vacuum seal on your bottle.
It only takes a very small compromise in the vacuum seal for the entire vacuum space to fill up with air. Once this happens your bottle loses it's insulating properties and there is no common way to fix this.
Hydro Flask use a unique and innovative way of creating their vacuum seal that removes the use to lead…yeh that's right other vacuum sealed bottles use LEAD to create the vacuum seal. But Hydro Flask don't.
It may be that this type of seal isn't quite as good. This great article by Inc talks about how they had problems with the insulating abilities of their bottles when they first changed their manufacturing back in 2013:
"We found 7 percent or 8 percent didn't work, much higher than we would expect, and from then, it was all hands on deck to work with the factories and see if we could get to the point where we could trust their quality."
However, by early 2014 this problem was fixed:
"By early 2014, we could meet demand with the quality we wanted."
But potentially this process meant that the bottles were not dishwasher safe and couldn't handle those high heats whereas other brands like Yeti are dishwasher safe.
The heat in the dishwasher also has the potential to discolor the powder coat on the outside of your bottle or affect the branding. So it may make your bottle look worse, which no one wants.
What Happens If You Put Your Hydro Flask in a Dishwasher?
If you put your Hydro Flask in the dishwasher it's a gamble as to what could happen.
Truthfully your bottle may be completely fine and may go through the cycle and just come out clean. Depending on your dishwasher it may not have any bad effect on your bottle.
But there is a chance that putting your Hydro Flask in the dishwasher can cause the vacuum seal to break. If this happens the space between the inner and outer wall will fill up with air.
Once this happens your bottle will no longer work as well at keeping drinks cold or hot because it will have lost it's main ability to insulate.
There is also a chance that the dishwasher may discolor your Hydro Flask, though I haven't seen any examples of this.
How Should You Clean Your Hydro Flask Bottle?
To clean your Hydro Flask simply hand wash it in warm soapy water.
Use a long handle brush with firm bristles to clean the inside of the bottle and a soft sponge or cloth to clean the outside.
Avoid using coarse or abrasive cleaners especially on the outside of the Hydro Flask as they can scratch the bottle and remove the powder coated paint.
Click here for full instructions on how to clean a Hydro Flask bottle.
What Should You Do If Your Hydro Flask Bottle is REALLY Dirty?
If your Hydro Flask is really dirty or if it's starting to smell like mold and needs a more intense clean that just soapy water then there are a quite a few different things you can do.
Avoid using bleach as this can stain the stainless steel and cause it to rust.
Click here to learn what to do if your Hydro Flask smells like mold
What Insulated Bottles Are Dishwasher Safe?
While Hydro Flask bottles are not dishwasher safe they aren't the only vacuum insulated bottle on the market.
Are there any other insulated bottles that are dishwasher safe?
Yeti Bottles
As far as I am aware Yeti Bottles are the only vacuum insulated bottles that are marked as dishwasher safe.
I own a couple of these bottles and they are noticeably heavier than other vacuum sealed bottles.
I'm not sure if Yeti have a different manufacturing process that makes their bottles dishwasher safe, or if they have just tested them enough to know there is actually no risk.
Maybe other manufacturers are just being careful. I'm not entirely sure.
In my article on whether or not Yeti cups are dishwasher safe I talk about how the company originally said they weren't dishwasher safe when the cups first came out. But they amended this back in 2015 when, after some serious testing, determined that YES the bottles and the cups were strong enough to handle both the wild and the inside of a dishwasher.
See the full range of Yeti Bottles at Amazon
Klean Kanteen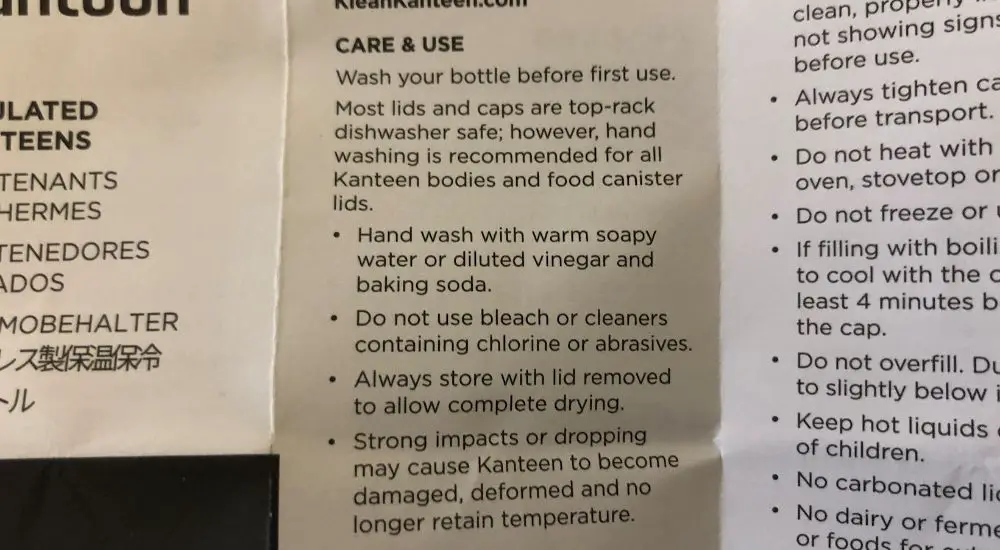 Klean Kanteen is another popular brand and they state that their double walled vacuum insulated bottles are NOT dishwasher safe, however all their single wall (non-insulated) bottles are dishwasher safe as are all their lids except for the bamboo cap.
They confirm this on both their FAQ page and their Care Page as well as in the printed material which you can see up above where they tell you to "hand wash with warm soapy water or diluted vinegar and baking soda".
See the full range of Klean Kanteen bottles at Amazon
Would I Still Buy a Hydro Flask Even Though They Aren't Dishwasher Safe?
Yes definitely. Personally for me Hydro Flasks are my #1 recommended insulated bottle for the main reason being they don't use any lead at all in their manufacturing.
They are also great bottles that perform really well and they come in a variety of fun colors and different sizes.
See the full range of Hydro Flask bottles at Amazon