Coolers are a great way to keep things cold but sometimes they can freeze food you don't want frozen and ruin them completely.
Too many time I've put fruit and vegetables in my cooler only to have them freeze in the ice. When they thawed out they were mushy and completely ruined. So how can you keep food from freezing a cooler?
I've learned that with the right packing strategy it's actually pretty easy to stop food from freezing in a cooler.
To keep food from freezing in a cooler keep it in a dry rack or put a layer of foam or plastic on top of your ice and then place the food on top. Food in plastic containers is also less likely to freeze.
1. Use a Dry Rack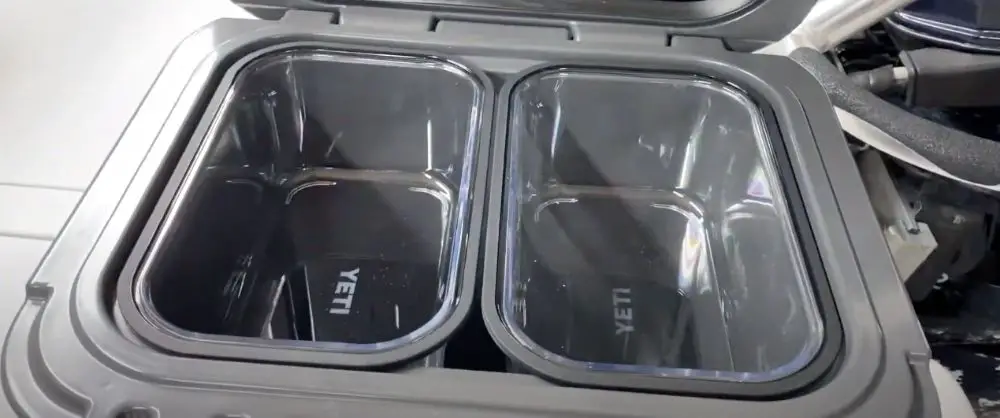 A few coolers these days come with dry racks that sit at the top of your cooler and keep food up and away from your ice.
This keeps food dry that you don't want to get wet and it also stops food from freezing.
If your food isn't touching the ice then it isn't going to freeze over.
When I lived in my van and used my Yeti Tundra 45 as my main cooler I would often use the dry rack to store essential foods that I wanted to keep cold but didn't want to get wet or freeze over.
Essential foods like fruits, vegetables and of course…the most essential of all….chocolate. Haha
2. Keep Your Food On The Top of The Cooler – Add a Layer of Foam or Plastic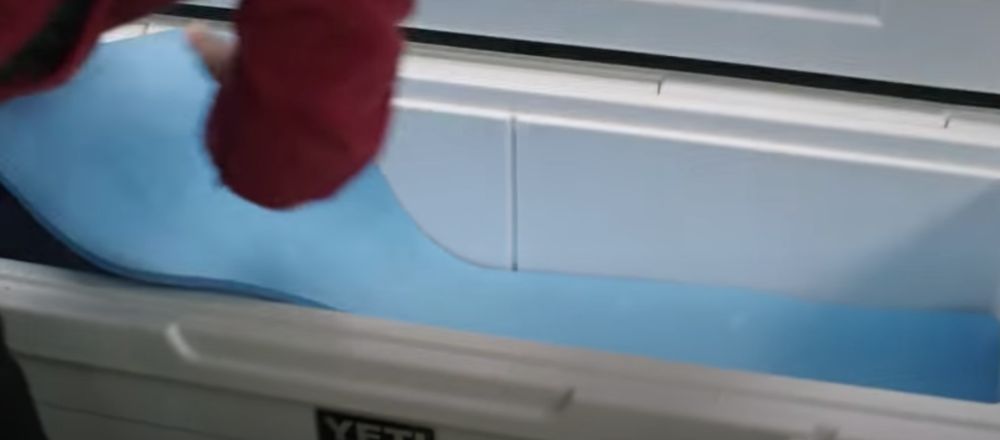 To avoid food from freezing in your cooler you want to make sure that it isn't completely covered in ice. So keeping the food on top of your cooler only touching some of the ice will help it stay thawed out.
An even better way to do it is to get a thin layer of foam and cut it to the size of your cooler.
Place this foam over your ice and then place the food you don't want to freeze on top of the foam.
This will serve multiple purposes.
It'll stop the food on top from touching the ice and thus stop it freezing, but it'll also insulate the ice underneath which means your ice will last for longer.
You can pick up a cheap Yoga mat like this thin foam Yoga mat at Amazon and cut it to size. It's an affordable option and a good addition to any cooler.
If you don't have a foam mat or don't want to buy one then you can just use plastic. A couple of thick plastic bags can do the trick. This provides just a little bit of insulation between the food and the ice to stop it from freezing.
You can also use a towel or cardboard to do the same thing, but as the ice melts then they will get wet.
3. Pack Your Food In Plastic Containers
Another simple easy way to stop food from freezing in your cooler is to simply get some plastic tupperware containers and pack your food in these.
The plastic will act as insulation and stop the ice from freezing your food.
To make it even more effective place a tea towel or paper towel inside your plastic container and then put your food inside.
The towel will keep the food even more separated from the ice, insulating it even more. Keeping it cool but not frozen.
4. Put Food On Top Of Drinks, Make Sure It Isn't Touching The Ice
If you are in a situation where you've got nothing to help you stop your food from freezing, no foam, no plastic, no containers or anything, then simply create a layer of drinks on top of the ice on your cooler then place your food on top of the drinks.
The drinks will get cold and be nice to drink and your food will be cool but won't be touching the ice so it won't freeze up.
5. Stick It To The Lid With Velcro
If you wan't to get creative then buying some sticky velcro dots and sticking them to the inside of your cooler and sticking the other side to some ziploc bags is a great way to keep food up and away from the ice.
It gives you extra dry storage and keeps food from freezing.
Any of these methods is a great way to keep food cool but to stop it from freezing in your cooler.