Arctic Zone Titan Deep Freeze coolers are an extremely popular cooler on Amazon, racking up thousands of reviews.
When my Dad brought home one of these coolers I knew I wanted to write a review about it as well as compare it to other brands like Yeti.
I had a bunch of questions about this cooler, like how long can it hold ice for, and I couldn't find answers to these questions easily so I figured I would compile some of the questions I had and the answers I found here so you don't have to go hunting.
These coolers are decent quality and super affordable so I can see why they are so popular.
Click here to see how cheap Titan Deep Freeze coolers are at Amazon…crazy how cheap they can sell them for.
How Much Insulation Does a Titan Deep Freeze Cooler Have?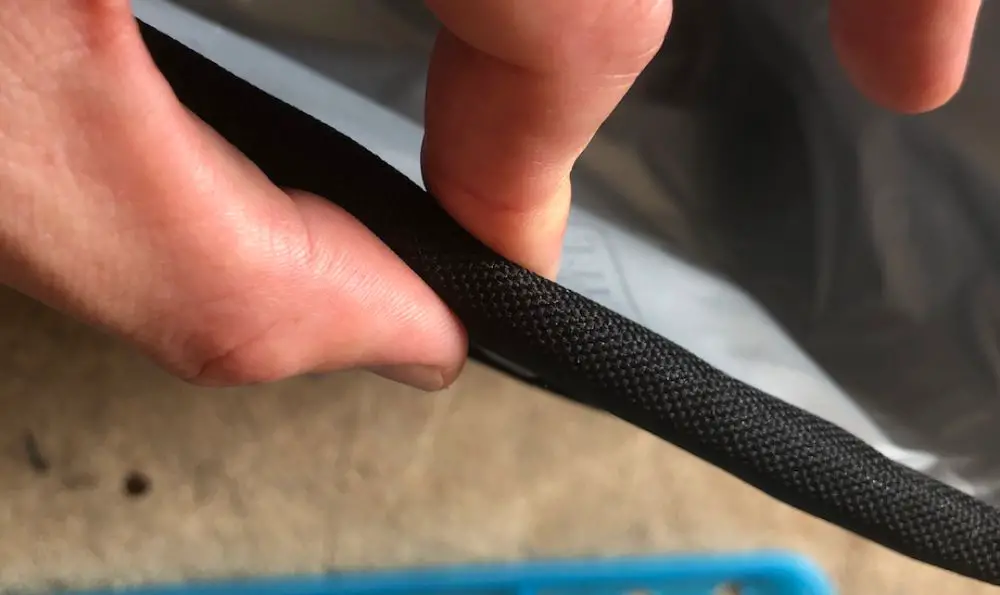 Arctic Zone Titan Deep Freeze soft sided coolers have an interior container made from thin plastic plus approximately 0.25 inches of foam insulation.
Their tote style cooler doesn't have the plastic container but has approximately 0.25 inches of insulation plus a "Therma-Flect" heat reflective barrier on the inside of the cooler. This reflective type of insulation to reduce radiant heat getting into the cooler.
This is not a lot of insulation and it is similar to other cheap soft sided coolers in this price bracket.
Compare this to the Ozark Trail cooler which is only slightly more expensive than the Titan Deep Freeze and the Ozark cooler has approximately 0.75 inches of insulation in the walls of the cooler. Approximately 2-3 times the insulation Titan coolers have. Click here to read my full Ozark Trail soft cooler review.
How Long Does The Titan Deep Freeze Cooler Keep Ice?
Arctic Zone Titan Deep Freeze coolers claim they can hold ice for up to 2 days for the smaller 9-can and 16-can sizes and up to 3 days for the 30-can and 48-can sizes.
Normal ice retention for Titan Deep Freeze coolers is likely to be around 6-12 hours when used in warmer weather and in conjunction with food/beverages at a 2:1 ice ratio.
I don't know where they get the 2 and 3 day mark from as from all the ice tests I have done (see my 10 day Yeti ice test) this seems like a massive overstatement given the thin insulation this cooler has.
Even a Yeti Hopper cooler can struggle to hold ice for 2-3 in strong heat and the Titan Deep Freeze has a fraction of the insulation of Yeti Hopper coolers. Click here to see my full Titan Deep Freeze vs Yeti Hopper cooler review.
The only way I can see these coolers keeping ice for 2-3 is if they are completely filled with very cold ice and then kept in side or kept in the shade in moderate temperatures.
On Amazon there are quite a few reviews talking about ice retention with some customers claiming it can't even hold ice for 6 hours while other customers saying it can keep ice up to 12 hours.
Some customers even talk about ice melting within a number of hours. Clearly their claim of 2-3 is an overstatement or only occurs in perfectly ideal conditions.
Are Titan Deep Freeze Coolers Waterproof?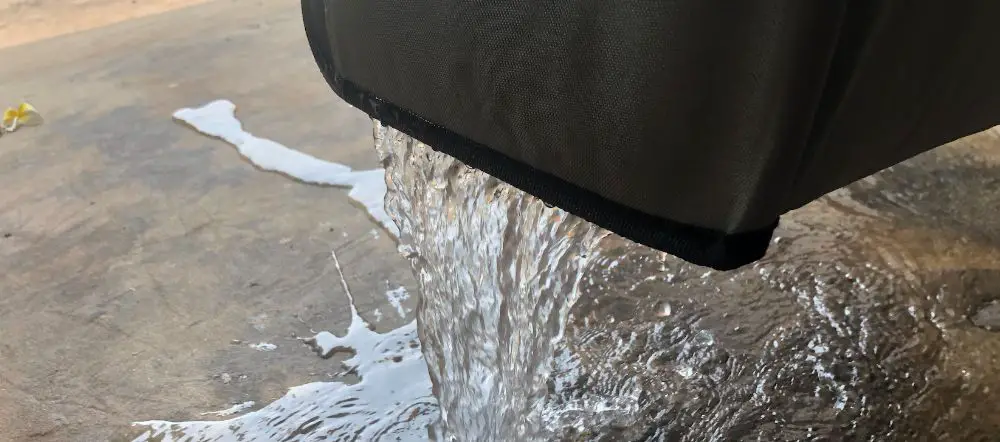 Titan Deep Freeze soft sided coolers are NOT waterproof. Neither the zipperless versions or the tote/backpack versions are completely waterproof and water will leak out of them if you tip them on their side.
I have a Titan Deep Freeze soft cooler and tested it by half filling it up with water. Water splashed out the sides a little bit when it sloshed around as I was carrying it. Then I tipped it on the side and water pours out through the lid.
There is no rubber gasket and no waterproof zipper to hold the water in, so if you are looking for a completely waterproof cooler this is not the one.
The exterior of the Titan Deep Freeze coolers is also not waterproof.
Parts of it are made from a splash proof weather resistant material while other parts are made from fabric that absorbs water.
So if you leave this cooler out in the rain or if it falls in the river/lake then it will get wet and absorb water.
The inside plastic container is leak proof when standing up, meaning no water will leak out the bottom of the cooler
What Is The Warranty on Titan Deep Freeze Coolers?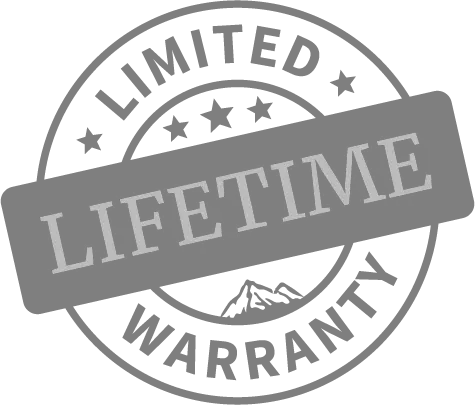 Arctic Zone offer 30-day returns on their coolers as well as a limited lifetime warranty.
The 30-day return policy allows you to return your cooler within 30 days of purchase and receive a full refund.
The limited lifetime warranty covers manufacturing defects on the cooler, however if it breaks due to misuse or general wear and tear over time that is not necessarily covered. You can read about the warranty here.
Where Are Titan Deep Freeze Coolers Made? Are Titan Deep Freeze Coolers Made in the USA?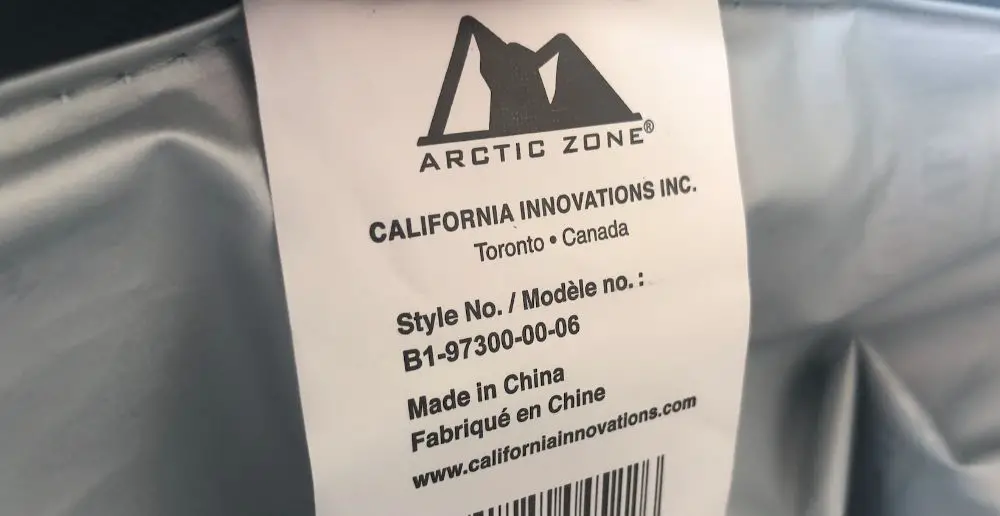 Arctic Zone Titan Deep Freeze coolers are made in China and are NOT made in the USA.
While Arctic Zone don't state anywhere on their website where their coolers are made I actually have one of their coolers and the tag on the inside of the cooler clearly states that this cooler is made in China.
In fact a large majority of soft sided coolers, including high-end brands like Yeti, are made in China and only a very small amount are made locally in the USA.
If you want a soft cooler made in the USA then I suggest checking out Bison coolers or click here to read my article on the best coolers made in the USA.
Where To Buy Arctic Zone Titan Deep Freeze Coolers?
You can buy Titan Deep Freeze coolers from a variety of local stores and large discount chains. You can also purchase them through their website or you can get them directly from Amazon.
If you want to see the latest prices of Titan Deep Freeze coolers I suggest checking Amazon. Click my affiliate links below to see the latest prices on these coolers.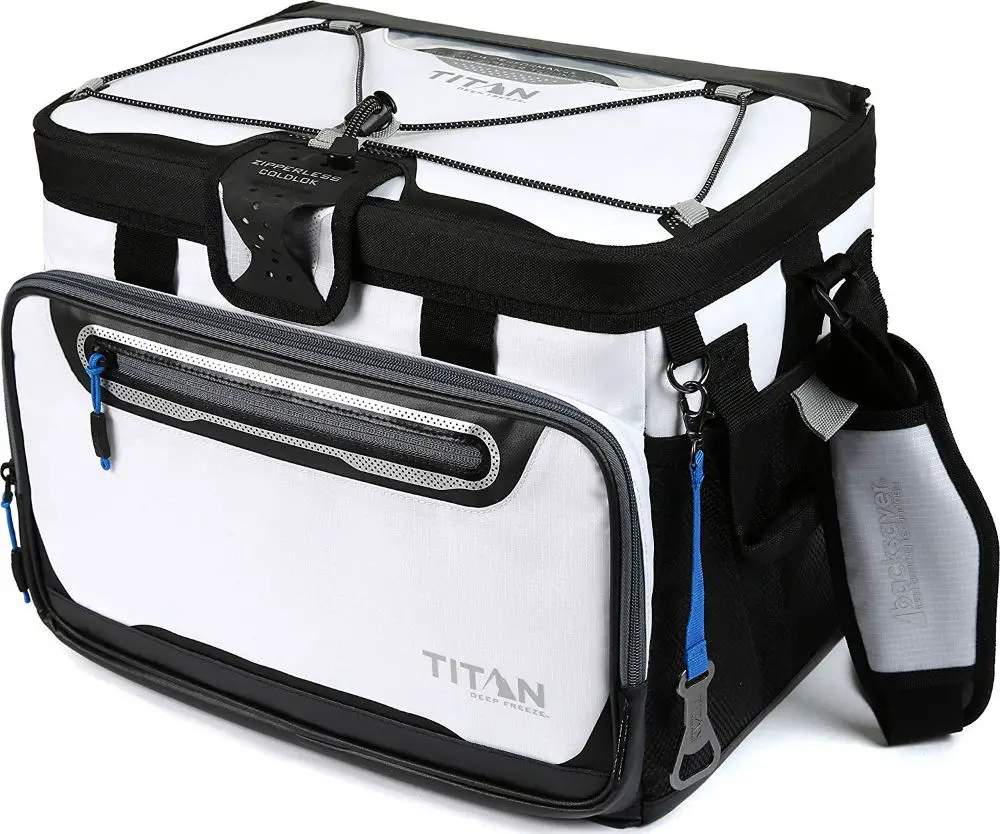 See the latest prices for Titan Deep Freeze coolers at Amazon